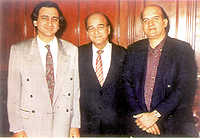 KARACHI: The MQM will be assured today (Monday) on behalf of President Zardari that Dr Zulfiqar Mirza will be shown the door as Sindh home minister in 10 to 12 days. According to credible sources, Mirza would be given some other responsibility in the Centre or Sindh. His new post, however, would not be significant and it would also not be related to the MQM members of the National Assembly or Sindh Assembly, the sources said. The PPP had sought 10 to 12 days because it was not possible to take immediate action against Mirza. President Zardari was of the view that Mirza would feel insulted if he was removed immediately. National Assembly Speaker Fehmida Mirza, who is the wife of Zulfiqar Mirza, also said that the immediate removal of Mirza would be insulting for their family. Moreover, all the offices of the Peoples Aman Committees would be closed down and the accused would be tried in courts. Dr Mirza to be shown the door in 12 days News Desk Monday, March 14, 2011
http://www.thenews.com.pk/TodaysPrintDetail.aspx?ID=4592&Cat=13&dt=3/14/2011
Zulfiqar Mirza bashed Mir Shakeel ur Rehman
URL:
http://www.youtube.com/watch?v=6ct8LlKghRU
http://ejang.jang.com.pk/3-14-2011/Karachi/pic.asp?picname=1036.gif
پاکستان کے وزیر محنت و افرادی قوت سید خورشید احمد شاہ نےقومی اسمبلی کو بتایا ہے کہ ٹیکس نادہندگان میں بارہ نجی ٹی وی چینلز بھی شامل ہیں اور ان کی طرف حکومت کے تقریباً پونے تین ارب روپے کے ٹیکس بقایاجات ہیں۔
جمعہ کو حکومت اور حزب مخالف کے بعض اراکین کے توجہ دلاؤ نوٹس کا جواب دیتے ہوئے انہوں نے بتایا کہ اِن ٹی وی چینلز نے یہ رقم اشتہارات کے مد میں حاصل تو کی ہے لیکن حکومت کو ادا نہیں کر رہے۔
خورشید شاہ کے مطابق ٹیکس نادہندگان میں سرِفہرست جیو ٹی وی ہے
جس کے ذمے ایک ارب ارسٹھ کروڑ روپے ہیں۔
Mir Ibrahim Rahman manhandles PTV lawyer inside Supreme Court 02 March 2011
http://criticalppp.com/archives/41605
KARACHI (October 31, 2010) : Cable operators on Saturday accused a leading media house of publishing "baseless allegations" through advertisements against them. "Geo and Jang newspaper of the same group are not only levelling baseless allegations against us [cable operators] but are also set to deprive us of our livelihoods," said Chairman Cable Operators of Pakistan, Khalid Araen at a press conference held at Karachi Press Club.
ISLAMABAD: If the National Accountability Bureau (NAB) is friendly to President Asif Ali Zardari and his coterie, it is extraordinarily soft on the Sharifs and other opposition leaders, too. Well-informed NAB sources confided to The News that the NAB, which is not pursuing corruption cases against the Sharifs in accountability courts, has also pended eight investigations and two inquiries regarding alleged corruption and misuse of authority mainly involving PML-N chief Nawaz Sharif and in one case against his younger brother Shahbaz Sharif. The bureau is also in possession of what a source called reasonable 'meat' against the Chaudhrys of Gujrat and even JUI-F chief Fazlur Rehman but it not proceeding against them too. The NAB is generally criticised for covering up past and present corruption cases of the PPP government including those against President Zardari and many others. However, the sources confirmed that the NAB is also not keen to proceed against the Sharifs and even other major opposition voices.
Capital talk 14th March 2011
URL:
http://www.youtube.com/watch?v=Fj8sKDJX6g0&feature=player_embedded
Capital Talk 14th March 2011-2
URL:
http://www.youtube.com/watch?v=93swbBF7f9I&feature=player_embedded
The sources disclose that in the case of the Sharifs details of all their corruption cases, investigations and inquiries were sought from the NAB, which has already provided all the details to President Zardari, Law Minister Babar Awan and Senate chairman Farooq H Naek. "Practically the NAB under present regime is not interested in pursuing corruption cases against any politician whether in the government or in the opposition," they said, adding that the media needs to dig out if there is any unwritten agreement behind the government's policy of 'reconciliation' and PML-N's 'friendly opposition'. The setting up of an independent accountability commission is part of the Charter of Democracy, signed between the two political parties; however, despite the lapse of three years a credible independent commission could not be constituted as yet.
Capital Talk 14th March 2011-3
URL:
http://www.youtube.com/watch?v=wBXKftCncjs&feature=player_embedded
Capital Talk 14th March 2011-4
URL:
http://www.youtube.com/watch?v=m9v4BKRb4Zk&feature=player_embedded
The government is clearly reluctant to go for it and is inclined to continue with the tamed NAB so that it could be used as per the personal whims and wishes of the rulers. On the contrary, the PML-N has been demanding the setting up of the independent accountability commission but did not go out of the way to press this demand which, if met, could have an extraordinary impact on reducing corruption in from government departments and among politicians. Although the scope of alleged corruption by President Zardari as per the NAB's own record is unmatched as it involves over Rs150 billion, Nawaz Sharif's name is also reflected in many (closed) files of the NAB. According to a bureau's brief, two NAB cases against Nawaz Sharif and others have already been disposed of in which all the accused have been acquitted. These cases include the Musharraf plane hijacking case and the helicopter case. The brief reveals three cases against the Sharifs are under trial but suspended in Accountability Court Rawalpindi. These cases are (i) Hudabia Paper Mills Ltd case in which the accused included Nawaz Sharif, Shahbaz Sharif, Abbas Sharif, Hussain Nawaz, Hamza Shahbaz Sharif, Mrs Shamim Akhtar, Sabiha Abbas, Maryam Safdar and the late Mian Muhammad Sharif, (ii) Wilful Bank Default of Rs1.06 billion by Ittefaq Foundries involving the accused Nawaz Sharif, Shahbaz Sharif, Abbas Sharif, the late Muhammad Sharif, Kamal Qureshi and Mukhtar Hussain; and (iii) assets case alleging that Nawaz Sharif, the late Mian Muhammad Sharif and Mrs Shamim Akhtar possess assets beyond known sources of income and construction of number of palatial houses and mansions at Raiwind estate.
Capital Talk 14th March 2011-5
URL:
http://www.youtube.com/watch?v=TSVd-wYrQGw&feature=player_embedded
The briefs say that there are six investigations against the Sharifs pending before the NAB following the NAB chairman's order. These pending investigations include (i) case of illegal appointments in the FIA against Nawaz Sharif, (ii) misuse of authority by Nawaz Sharif as a Punjab chief minister in the construction of road from Raiwind to the Sharif family house causing loss of Rs125 million, (iii) Sharif Trust case against Nawaz Sharif/Sharif Trust involving allegation of money laundering, misappropriation of trust funds and acquisition of benami assets in the name of Sharif Trust, (iv) London properties case against Nawaz Sharif and others regarding owning of Aven Field properties in London, (v) Illegal appointments in PIA allegedly by Nawaz Sharif, and (vi) corruption in the allotment of Lahore Development Authority (LDA) plots involving Nawaz Sharif, ex-DG LDA Brig (R) Manzoor Malik, ex-Director Estate, and Shahid Rafi. Two pending inquiries against the Sharifs in the NAB include a complaint of allotment of LDA plots and another complaint about alleged misappropriation of government property by allotting 12 plots to Mian Attaullah instead of one in Gulshan Ravi Scheme thereby causing loss of Rs20 million to the state. According to NAB sources, there are also pending investigations against the Chaudhrys of Gujrat besides some cases of alleged corruption against Fazlur Rehman. NAB soft on Zardari as well as Sharifs Ansar Abbasi Tuesday, March 15, 2011
http://www.thenews.com.pk/TodaysPrintDetail.aspx?ID=4617&Cat=13&dt=3/15/2011
Tuesday, March 15, 2011, Rabi-us-Sani 09, 1432 A.H
http://www.jang.com.pk/jang/mar2011-daily/15-03-2011/main2.htm
Jang Group/Hamid Mir Propaganda against Pakistan Army and Agencies
URL:
http://www.youtube.com/watch?v=m36hEqGmXOI&feature=channel_video_title
[PML-N ready to welcome MQM in opposition ranks] ISLAMABAD: Opposition Leader Chaudhry Nisar Ali Khan says his party is now ready to welcome the MQM in its ranks and the future of the Gilani government depends on the MQM's decision. Speaking in the Geo TV show Capital Talk with Hamid Mir, Ch Nisar said some political allies were the only source of oxygen for this government. Hamid Mir reminded Ch Nisar that two months ago, when the MQM revolted against the PPP government and joined the opposition, the PML-N did not welcome it and instead of broadening the opposition alliance, pushed the MQM back to the PPP. Ch Nisar said if the MQM left the government and joined the opposition this time, then this government would not survive. The opposition leader also admitted that he had received a letter from the government about Justice (retd) Deedar Hussain Shah on Monday morning (March 14). Until Sunday evening, he had not received any letter, he claimed.
GEO TV & Hamid Mir Murdered Khalid Khawaja - Part - 1
URL:
http://www.youtube.com/watch?v=76gUb0l-Cho&feature=relmfu
He informed Hamid Mir that he had not gone through the contents of the letter yet. When Hamid Mir showed the copy of the letter to Chaudhry Nisar and revealed that the letter had been written by Secretary to the President Malik Asif Hayat, an angry opposition leader immediately said: "Ok my secretary will respond to the secretary of the president." Hamid Mir aired the claim of Federal Law Minister Babar Awan who emphasised that the letter from the President's Secretariat was received by one Ejaz, a security guard of Ch Nisar on the night of March 11 at 11:40 at his residence in Rawalpindi. Nisar rejected this claim of the law minister.
GEO TV & Hamid Mir Murdered Khalid Khawaja - Part - 2
URL:
http://www.youtube.com/watch?v=c-h4GGI9Lgk
Hamid Mir again aired the views of Babar Awan who said that Nawaz Sharif once expressed his confidence in Justice Deedar Hussain Shah through a petition in the Sindh High Court. Hamid Mir even showed the copy of that petition to Nisar but the opposition leader said that Babar Awan was trying to twist the facts. "The name of Deedar Hussain Shah was definitely mentioned in one of the petitions filed by the lawyers of Nawaz Sharif in the year 2000 but nobody can prove that Nawaz Sharif showed confidence in Deedar." Responding to another question, Nisar said two months ago, his party avoided to oust Prime Minister Gilani because he thought that a no-confidence was not a viable solution in the current political crisis because the PML-N had only 91 seats in the assembly and any new government would not be able to work properly.
GEO TV & Hamid Mir Murdered Khalid Khawaja - Part - 3
URL:
http://www.youtube.com/watch?v=rxuW_C0z29k&feature=related
He said that the real solution of the current crisis was in fresh elections. He dispelled the impression that Punjab Chief Minister Shahbaz Sharif tried to drag the Army and iudiciary into politics by proposing a political dialogue with these institutions. He said that his party does not want the Army to interfere in politics. The Supreme Court should not call the Army for its help under Article 190 of the Constitution and let the political forces resolve this crisis politically, he added. He said that politicians can resolve problems with consensus. He gave the example of Public Accounts Committee of the National Assembly which recovered more than Rs60 billion of the plundered money in last two and a half years from different state institutions. He said the PAC is not an anti-corruption body but this body recovered a record amount of plundered money and every member of Parliament can take pride on the PAC performance.REFERENCE: PML-N ready to welcome MQM in opposition ranks Monitoring Desk Tuesday, March 15, 2011
http://www.thenews.com.pk/TodaysPrintDetail.aspx?ID=4616&Cat=13&dt=3/15/2011
Hamid Mir & GEO TV Supported Lal Masjid Operation. (Dunya TV 15 Feb 2011)
URL:
http://www.youtube.com/watch?v=dTkrOW0krd4&feature=related
Tuesday, March 15, 2011, Rabi-us-Sani 09, 1432 A.H
http://www.jang.com.pk/jang/mar2011-daily/15-03-2011/main.htm




ISLAMABAD: Chief Justice Iftilhar Muhammad Chaudhary, during the hearing of National Insurance Corporation Limited (NICL) scandal case, remarked that the culture of not bringing the influential persons to justice should be ended, Geo News reported on Monday. The three-member bench of the SC heading by Chief Justice was hearing the NICL scandal case. The Chief Justice further stated that corruption would not be tolerated, adding that public money had been looted that should be ended now. CJ Iftikhar Chaudhary was angered over transfer of investigation officers and directed the FIA to bring them back otherwise the court would cancel their transfer orders. The court also summoned secretary commerce with NICL audit report. Deputy director FIA informed that court that there was corruption of around Rs5 billion in NICL, adding that an accused has been arrested. The accused during interrogation has revealed that he had handed over Rs220 million to Moonis Elahi, he added. Over this Chief Justice remarked that there is Rs18 billion corruption in NICL. Meanwhile, Chief Justice also summoned secretary home and FIA investigation official. REFERENCE: Culture of not bringing influential to justice be ended: CJ Updated at 1255 PST Monday, January 24, 2011
http://www.thenews.com.pk/NewsDetail.aspx?ID=9970
Monday, January 24, 2011, Safar 19, 1432 A.H
ISLAMABAD: PPP MNA Sher Muhammad Baloch during a speech on the floor of the National Assembly accused that Geo TV and its anchor Kamran Khan wanted to destabilize the country. "The Geo TV and Kamran Khan are anti-parliament, anti-PPP and they want to destabilize Pakistan," Sher Baloch while delivering his speech on Rabbani committee report said. PPP's Abdul Qadar Patel who was chairing the session tried to interrupt Baloch but the other PPP members started thumping desks to hail remarks uttered by their colleague. Patel, however, did not expunge Sher Baloch's remarks against Geo TV and Kamran Khan. The Geo TV time and again becomes target of criticism from the leaders of the ruling party for exposing corruption. Meanwhile, a Geo spokesman said Geo is the only channel that is highlighting people's problems, importance of rule of law, bad affects of corruption particularly Swiss cases, crime and ever-increasing price hike. The channel unveiled many big cases of corruption and irregularities, he said. The Geo campaign against corruption and lawlessness, he said, is unabated and that was why it is highest-rated channel. The channel is popular among the masses and its programmes are highest rated. Only yesterday Kamran Khan in his programme at Geo raised the question that Supreme Court is not hearing NRO cases including Swiss courts cases. REFERENCE: Geo is anti-parliament, PPP MNA tells NAWednesday, December 22, 2010 By Muhammad Anis
http://www.thenews.com.pk/TodaysPrintDetail.aspx?ID=2835&Cat=13
Wednesday, December 22, 2010, Muharram 15, 1432 A.H
http://www.jang.com.pk/jang/dec2010-daily/22-12-2010/main4.htm
URL:
http://www.youtube.com/watch?v=aBs1ZBz4VX8&feature=player_embedded
RAWALPINDI: Five spectators of a drag race were killed when one of the sports cars skidded off the road and ran them over. A woman and a minor child were also injured in the incident, which took place on Sunday in Phase VIII of Bahria town, a posh locality in the outskirts of the twin cities. Driver of car number 707, Muhammad Majid Khan, who is also the senior manager of a national telecom giant, managed to escape from the scene with a few injuries, said police. It was not clear if the race was legally organised or not. The Rawat area police denied having given permission to the telecom company to organise the race. The company officials, however, had somehow managed to obtain a No Objection Certificate (NOC) from Bahria Town management. "A copy of the NOC was sent to the police station after we had rejected their application seeking permission to hold the race," said a police official.
Witnesses told the police that the speeding driver had lost control of his car, and was trying to reduce speed by grazing it along the footpath. However, he failed to regain control and after hitting the footpath, the car skidded straight on to crush the spectators. Four people Daniyal Khan, Babar Khan, Sohail Khan and Colonel (Retired) Mohsin Khan died on the spot, while Asfand Yar was pronounced dead upon reaching the hospital. A woman Jamana Khan and a minor child Hamza Iqbal suffered injuries and were shifted to the nearby Safari hospital. Talking to The Express Tribune, Commissioner Rawalpindi, Zahid Saeed said that the race was illegally organised.
Why Kamran Khan, GEO TV & Jang Group "Missed" this NEWS?
URL:
http://www.youtube.com/watch?v=fotpfElGyvs
URL:
http://www.youtube.com/watch?v=Xj4OdAvYXtg
ISLAMABAD, Oct 27: The Supreme Court on Tuesday ordered the release of Malik Tabarak Hussain Bari after it was informed that he had been framed in a fake case and arrested by the Karachi police at the behest of his rival Malik Riaz Hussain, a real estate tycoon. A three-judge bench comprising Chief Justice Iftikhar Mohammad Chaudhry, Justice Jawwad S. Khwaja and Justice Ghulam Rabbani that had taken the case on suo motu directed the release of Mr Bari against a surety bond of Rs500,000. The Karachi police had picked up Mr Bari from Islamabad allegedly without fulfilling legal requirements because he was reportedly planning to bring hundreds of victims of Malik Riaz's highhandedness to the apex court on October 26.
But before it could happen, about a dozen of Frontier Constabulary and police personnel raided the house of Mr Bari at Sector E-7 on October 24 and after detaining him at the FC headquarters for some time shifted him to Karachi where a fake case was registered against him. SSP investigations Karachi Niaz Ahmed Khoso and the investigation officer of Sohrab Goth police Aneel Ali Khushk had informed the court that Mr Bari was wanted to the Karachi police in a case registered against him on October 16. The court ordered the Kohsar police to keep Mr Bari till he furnishes the surety bond. In the meanwhile, Mr Bari can lodge a complaint against the injustice done to him by the police, if he so desired. The court also expressed displeasure over the Karachi police's picking up of the accused from Islamabad without any legal requirements. The court held the FIR as concocted, designed to implicate the accused. Mr Bari told the court that his 14-year-old son was also maltreated by the police during the raid at his hose. Besides, one of the policemen also forcibly took away his Rolex watch, he alleged.
ISLAMABAD: Declaring all cases against him "false and concocted", a three-member Supreme Court (SC) bench on Tuesday ordered the release of Malik Tabarik Hussain – the man held by police for the murder of Bahria Town security guard Faiz Ahmad – against a surety bond of Rs 500,000. The SC had ordered the arrest of Bahria Town Chairman Malik Riaz Hussain for Faiz's murder on Monday, while conducting suo moto hearing on an appeal that appeared in newspapers. Tabarik was arrested by Karachi police from Islamabad and the court observed that law enforcement officials had not fulfilled the necessary legal requirements before arresting Hussain. The bench, consisting of Chief Justice Iftikhar Muhammad Chaudhry, Justice Jawwad S Khawaja and Justice Ghulam Rabbani, however, directed Kohsar police to hold Hussain until he furnished the surety bond. Tabarik was brought to court by Karachi SSP (Investigation) Niaz Khoso and Sohrab Goth Investigation Officer Aneel Khushk.
Reporter - Land Mafia's Collusion with Power Players! - EP56 - Part 1
Courtesy: DAWN NEWS PAKISTAN
Aneel informed the bench that Tabarik was charged under sections 324, 427 and 34 of the Pakistan Penal Code in an FIR registered at Sohrab Goth police station on October 16, 2009. The court, after examining the case records, maintained that the FIR was false and the entire case "concocted and designed".
Reporter - Land Mafia's Collusion with Power Players! - EP56 - Part 2
Courtesy: DAWN NEWS PAKISTAN
Air tickets: During the course of the hearing, it was also revealed that the complainant in these cases, Zaheer Ahmed, had provided air tickets to the police party that arrested and moved Tabarik to Karachi. It was also revealed that when police raided Tabarik's house in Islamabad's Sector E-7, they were accompanied by dozens of Frontier Constabulary personnel, and after the arrest, Tabarik was detained at FC offices for some time before being moved to Karachi. Tabarik told the court that his 14-year-old son was beaten up by police when he was arrested, and also accused the Investigation Officer Aneel Khushk of taking a Rolex wristwatch from him. The bench was, however, surprised to learn that another case was registered against Tabarik under sections 337, 148 and 149 of the PPC in Karachi in 2003, and that he had been declared an absconder.
Reporter - Land Mafia's Collusion with Power Players! - EP56 - Part 3
Courtesy: DAWN NEWS PAKISTAN
At this, Justice Jawwad Khawaja noted that Tabarik had contested the February 2008 general elections as an independent candidate from NA-49 Islamabad and secured over 10,000 votes. He asked the police officials why Tabarik was not arrested earlier if he had been declared an absconder. Justice Khawaja also asked police representatives, as well as Sindh Additional Prosecutor General Saleem Akhtar, to explain why they had not intervened during the scrutiny of Tabarik's nomination papers. Sardar Asmatullah Khan, counsel for Tabarik's wife Anjum Riaz, told the court that Bahria Town chairman Malik Riaz Hussain was behind the "false cases" registered against his client's husband.
Reporter - Land Mafia's Collusion with Power Players! - EP56 - Part 4
Courtesy: DAWN NEWS PAKISTAN
Asmatullah said Tabarik planned to bring several people – who had been victimised by the Bahria Town chairman – to the Supreme Court on October 26. However, Malik Riaz, using his influence, had Tabarik booked and imprisoned. He alleged that Malik Riaz had illegally acquired thousands of kanals of land from the poor in the areas of Rawat and Sihala at throwaway prices, adding that Riaz had got registered false criminal cases registered against hundreds of such individuals at the Rawat, Sihala, Sadar Bairooni and Civil Lines police stations, just to get his hands on their land.
Reporter - Land Mafia's Collusion with Power Players! - EP56 - Part 5
Courtesy: DAWN NEWS PAKISTAN